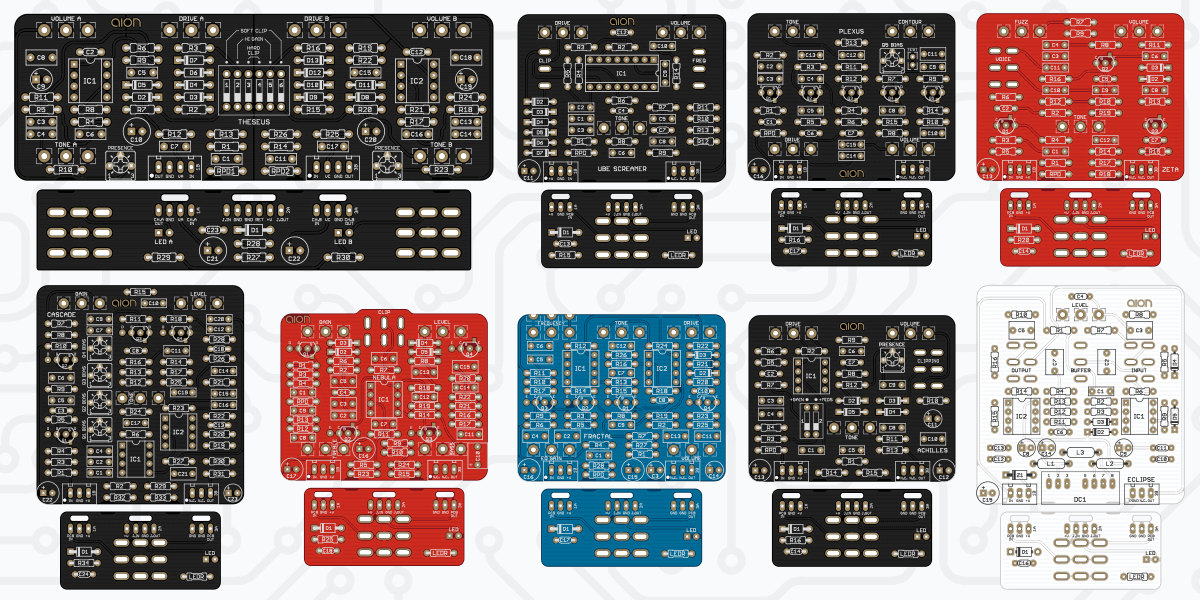 Nine new projects releasing today
New projects available today! Six are brand-new, and three are redesigns of legacy projects in the 125B format.
Our release schedule so far this year has been a little more relaxed than the frenetic pace of 2021, but we've been busy behind the scenes working to chip away at the prototyping queue. This represents about 20% of it, so there's still plenty more to come this spring and summer!
---
Theseus – King of Tone
Two modded Bluesbreakers in series… and no wait list.
---
Achilles – Prince of Tone
The single-channel version of the King of Tone, with a few extras not found in the dual version.
---
Cascade – Washburn Stack in a Box
The first drive pedal that used JFETs to simulate the topology of cascaded tube gain stages for natural amp-like breakup (all the way back in 1984!).
---
Plexus – BSIAB2
A classic DIY design that uses mu-amp stages to get a sound reminiscent of Van Halen's classic "brown sound" based around his 1968 Marshall Super Lead amp.
---
Zeta – Jumbo Tone Bender
The silicon successor to the classic Macaris germanium fuzz pedals of the late 1960s, the Jumbo Tone Bender and its variants were actually adapted from the Big Muff Pi.
---
Runoffgroove UBE Screamer
An original design from Runoffgroove with the goal of reproducing the sound of the Tube Screamer with CMOS gain stages.
---
Fractal – Pearl OD-05 Overdrive
A versatile overdrive with a single-band parametric EQ, allowing adjustable boost or cut from 100 Hz to 4kHz.
---
Nebula – Maxon DS-830 Distortion Master
A vintage-inspired distortion that uses both hard and soft clipping along with an active boost or cut for both bass and treble frequencies.
---
Eclipse – Korg SDD-3000 Preamp
An adaptation of the bypass preamp section of the Korg SDD-3000 digital delay, notably used by The Edge, Daniel Lanois and others.