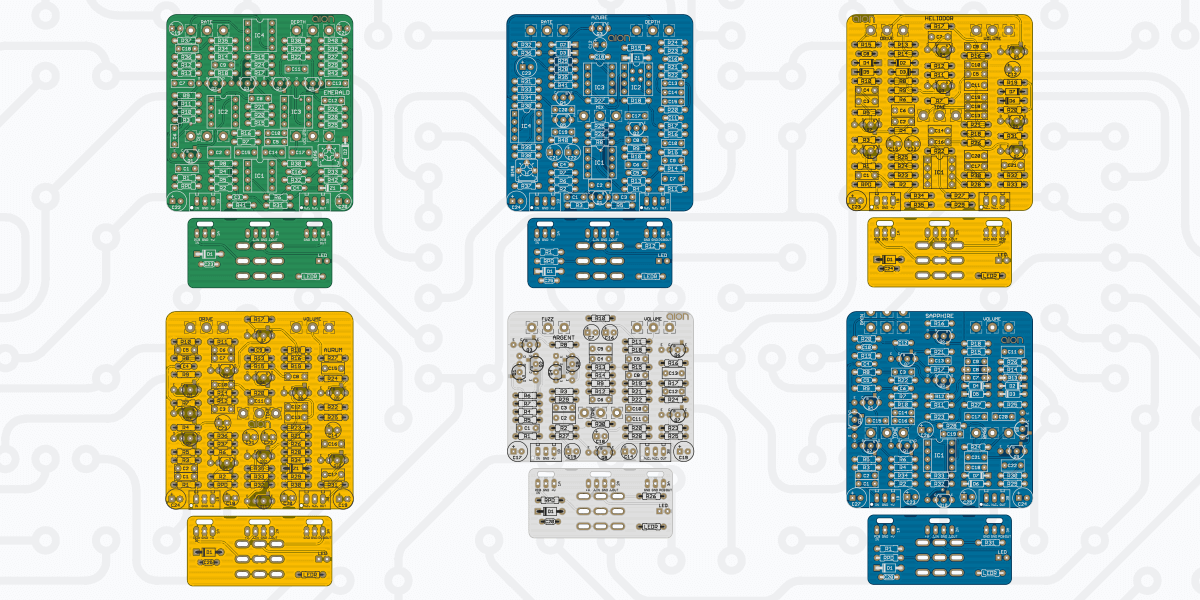 Six new BOSS® circuits releasing today, and new JFETs to match
Today we're releasing six new projects, all based on BOSS® classics. Four of them are circuits that no one else has done in PCB form before.
The original timing would have been legendary: National Boss's Day was October 16, and these were all ready to go in time for it… but we had a little something extra that we wanted to do at the same time that was delayed by a few weeks, and these circuits were cool enough that we thought it would be worth the wait to release the whole collection alongside the Black Friday sale.
So what are the extras? More JFETs!
The BD-2, OD-2, and OD-3 all use a very specific type of JFET for their drive tones, not far off from a J201 but different enough that it was worth carrying the exact part instead of a "close enough" substitute. The 2SK209-GR is the SMD version of the types used in those pedals, and will perform identically in a clone. As with the other JFETs, they are pre-soldered to adapter boards for use in through-hole applications.
The next one is even better: the PH-1r Phaser used four matched 2SK30A-GR JFETs, again similar to the 2N5457 or 2N5952 but not identical. Almost all JFETs today are SMD, and matching them in this format is an enormous headache. So we've got you covered with matched sets of 2SK208-GR, the SMD version of type used in the PH-1r. You can build a classic JFET phaser without any matching needed.
As Aion FX has grown, part of our mission has evolved into supplementing the component suppliers and offering certain parts alongside the PCBs to help make sourcing easier. We don't anticipate becoming a full-fledged parts distributor, but it's exciting to be able to expand our lineup of unique components that the normal suppliers don't carry. Our goal is to help people build accurate versions of these circuits without having to risk the old-stock market where fake or off-spec components are widespread.
Here are the new circuits!
---
Emerald – BOSS PH-1r Phaser
A four-stage JFET phaser with a resonance control to accentuate the phasing effect.
---
Azure – BOSS CE-2 Chorus
Likely the most popular chorus pedal ever made. Includes the Mix knob from the CE-2B Bass Chorus, but if it's turned all the way up then it's identical to the original CE-2.
---
Sapphire – BOSS BD-2 Blues Driver
You know the one. Includes an added bass knob as well as support for the Galaxie Mod that swaps out half the parts and changes it into a whole new pedal.
---
Argent – BOSS FZ-3 Fuzz
Vintage-inspired silicon fuzz with elements of the Fuzz Face, Tone Bender and Big Muff. (Ever seen a gray PCB before?)
---
Aurum – BOSS OD-2 Overdrive
Based on the turbo mode of the OD-2 Overdrive, which was the precursor to the BD-2 and the first appearance of the JFET-based "discrete op-amp" topology.
---
Heliodor – BOSS OD-3 Overdrive
An updated and more refined version of the BD-2, again featuring the discrete op-amp, manufactured from 1997 to present.
---
Disclaimer: Aion FX has no affiliation with BOSS® and these projects are not endorsed by them. The company and product names are for comparative purposes only under fair use.