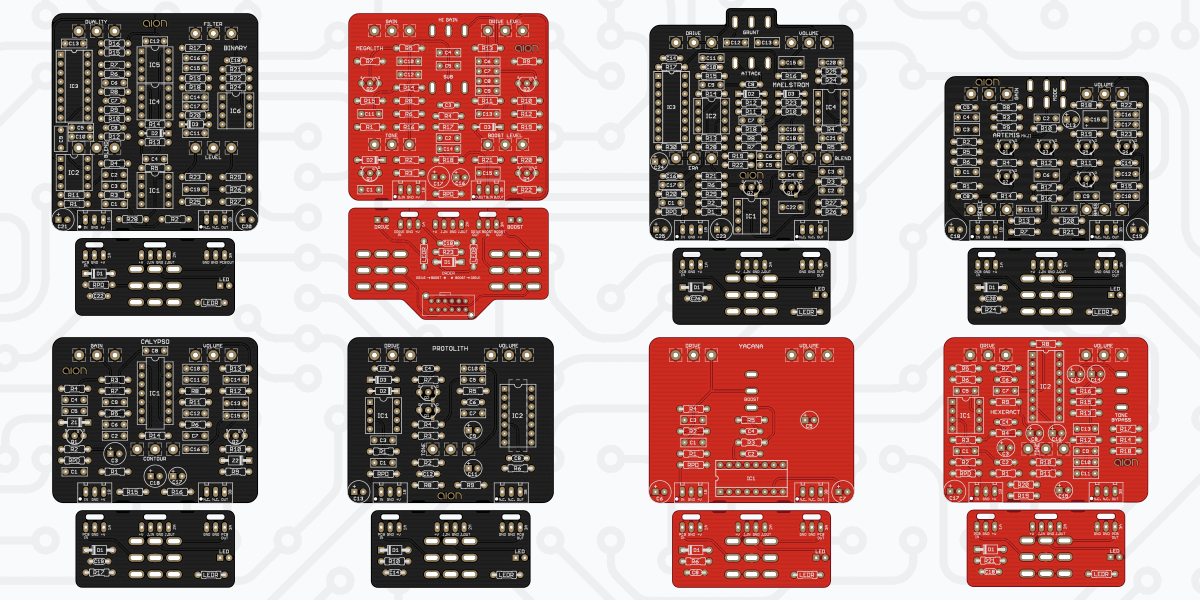 CMOS mayhem: two new traces and eight new projects
There's a theme going today: six of the eight new projects use overdriven CMOS inverters for clipping. We've got classics like the Hot Tubes and Red Llama alongside modern interpretations like the Darkglass Microtubes B3K and the Mad Professor Stone Grey Distortion.
And we've got two new traces: the Darkglass Duality and the Catalinbread Supercharged Overdrive.
Venturing beyond CMOS (but not far), we've got one based on the ZVEX Box of Rock and one that missed the Catalinbread bus last fall, the SFT V2.
We've been hard at work trying to whittle away at the prototyping queue, and we've still got a few more surprises in store before the end of the year. But for now, have fun abusing those logic chips!
---
Binary – Darkglass Duality
Two fuzz voicings in parallel paths that can be blended together.
View Project → Tracing Journal →
---
Maelstrom – Darkglass Microtubes B3K
A modern classic that spans the tonal decades from vintage to modern.
---
Megalith – ZVEX® Box of Rock
A Marshall-voiced cascade of MOSFET gain stages, with an independently-switchable boost.
---
Calypso – Catalinbread Supercharged Overdrive
An Orange-flavored CMOS drive with an amp-inspired feedback tone control.
View Project → Tracing Journal →
---
Hexeract – EHX Hot Tubes
The first commercial pedal to use overdriven CMOS stages for overdrive, first released in 1978.
---
Yacana – Way Huge Red Llama
A classic CMOS inverter overdrive tracing its origins back to DIY project designed by Craig Anderton in 1978.
---
Protolith – Stone Grey Distortion
A high-gain drive circuit designed by Bjorn Juhl (BJFe) and first released in 2011.
---
Artemis Mk. II – Catalinbread SFT V2
An updated adaptation of the Ampeg® SVT, a legendary high-powered bass amplifier that first appeared in 1969.