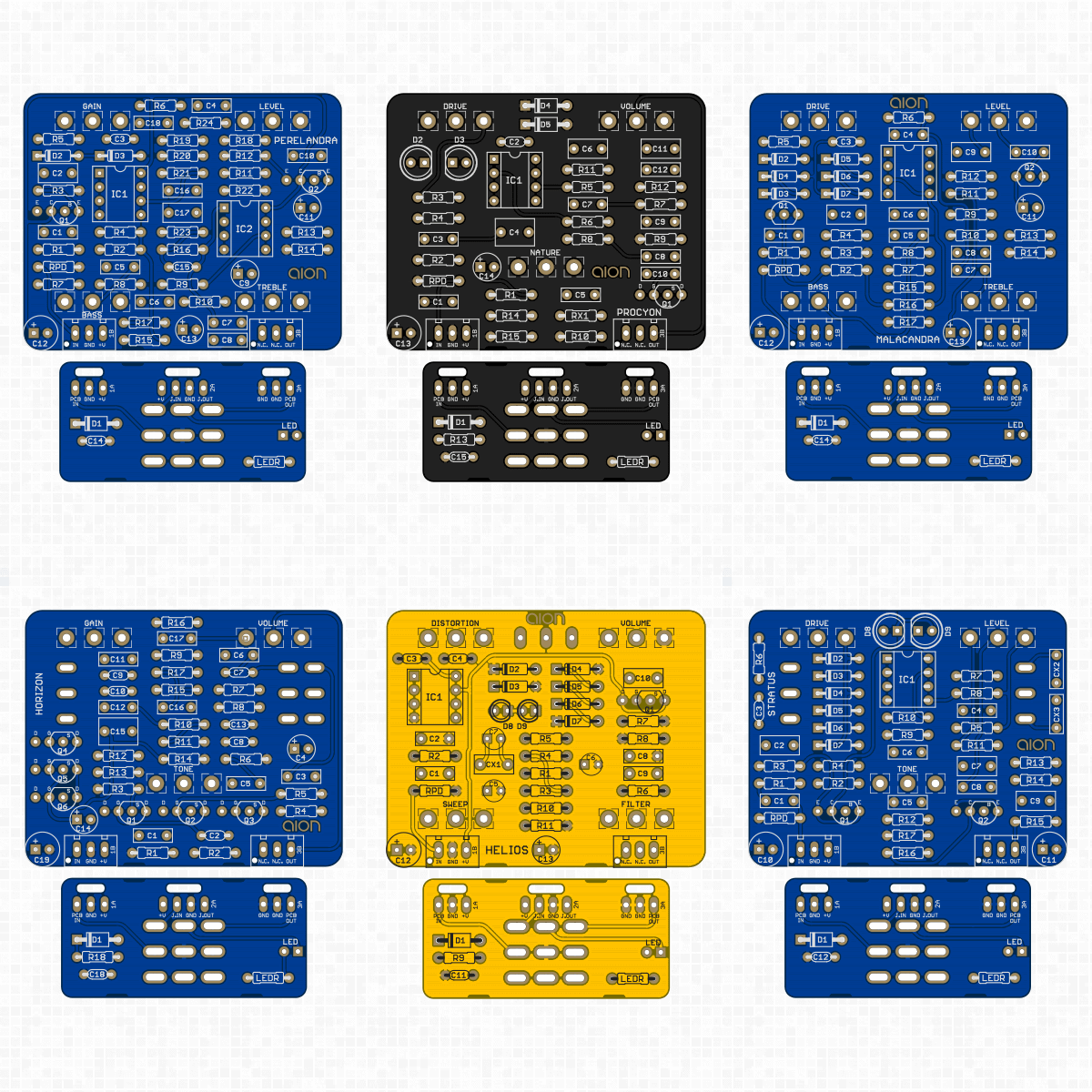 Seven new projects available: three brand new, plus four updated 125B versions
Note: Technically three of these launched a few weeks ago, but other than sending out an email I didn't really publicize it. So if you're on the email list, only four of these are new.
I'm excited to announce the release of seven new projects. Three of them are new, and four of them are updated re-releases on the new 125B platform.
Brand new projects
Horizon – Catalinbread Dirty Little Secret Mk. I
A recreation of the first version of the Catalinbread Dirty Little Secret (DLS), widely considered to be the best version. This is a killer Marshall-like circuit with true amp-like response. There are no clipping diodes or op-amps in this one, instead using cascaded mu-amps and JFET-based clipping, which more closely resembles the way a tube amplifier generates overdrive and sets it apart from other types of drive circuits.
Malacandra – Xotic AC/RC Booster
This project allows you to build a clone of either the Xotic AC or RC Booster. (These are basically the same circuit but with some minor parts substitutions.) The circuit topology looks kind of like a Bluesbreaker combined with a Tube Screamer, so it's no surprise that this is a great way to describe the sound. The addition of a 2-band Baxandall control makes it a really flexible tone machine.
Malacandra Boost / Overdrive →
Perelandra – Xotic BB Preamp
The BB Preamp is a different animal from the AC/RC Booster. It more closely resembles the Tube Screamer, but with a flatter response. It also has a great deal more gain than the AC/RC Booster circuits while still being sparkly clean at the lowest gain setting.
Perelandra Boost / Overdrive →
125B rereleases
Stratus – Ibanez TS-9 Tube Screamer
One of the most famous overdrive pedals of all time, the Tube Screamer needs no introduction. The Stratus includes switch modifications for the clipping diodes and bass frequency.
Procyon – BJFe Honey Bee Overdrive
A workalike of one of the original hand-made boutique pedals, originally modeled after vintage Supro amps and noted for its dynamic low-gain tone.
Andromeda – Nobels ODR-1
A unique overdrive pedal with a very rich drive tone that earns it a spot on the pedalboards of many Nashville studio musicians. This one flies under the radar, but many people say it's their favorite overdrive out of all the Aion projects.
Helios – Pro Co RAT Distortion
A distortion pedal with a very distinctive and tight mid-to-high-gain character that made it a staple in the rigs of 1980s hard rock bands.
Kit update
Things are still progressing really well for the kits. Typically October through January is my high season for sales, so I'm making a big push to get everything in place before then. It's a lot to coordinate and I've only got one shot at it, so I'm a bit delayed in getting the next set of Refractor kits up for sale, but they're coming.
I will launch limited runs (10-20) of six different kits in October, based on the Refractor, Graviton, Stratus, Azimuth, Halo, and Cerulean. Then in November I'll do a bigger release of each of them with far more availability. So either way, if you're wanting one of them, you won't have to wait long or worry about them selling out before you have a chance to grab one.