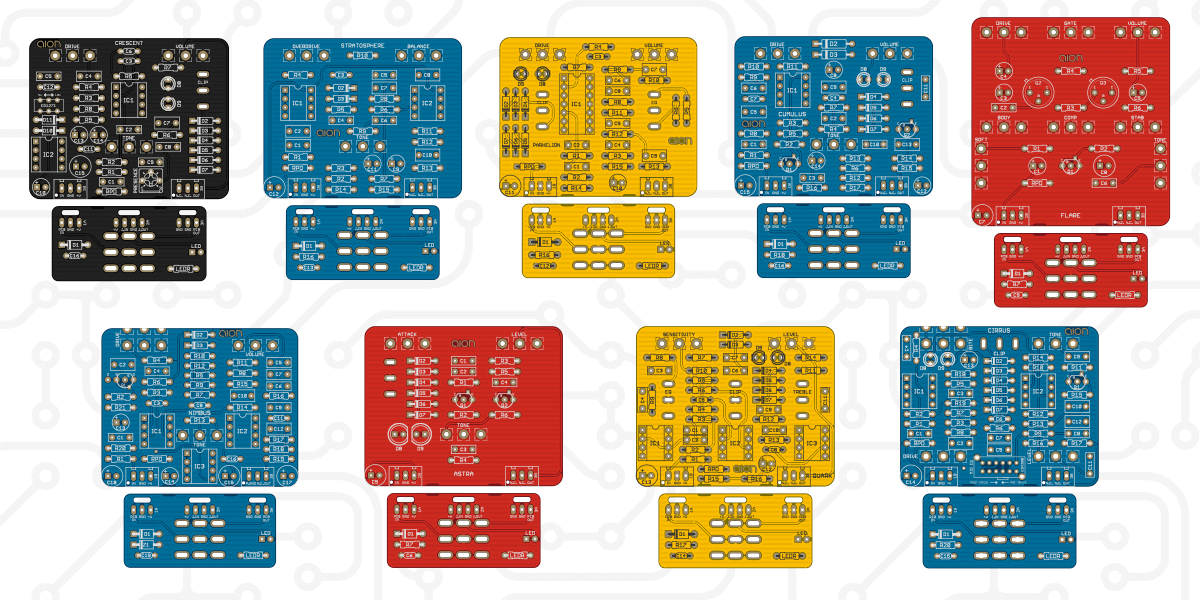 SPRING SALE: 20% off all PCBs through Monday, plus 9 new (old) projects
Spring Sale
PCBs are 20% off from now through the end of the day Monday, March 22. No coupon is necessary – the discount will be taken automatically at checkout.
New projects
We've got a brand-new project for the Ibanez "Narrow Box" Tube Screamer, the extremely rare first version of the TS-808 with two dual op-amps instead of one. It doesn't sound too different from a stock Tube Screamer, but it's a great project for beginners as well as anyone who wants some extra vintage flavor. We traced this one ourselves and will post a tracing log at some point.
Alongside the TS-808, we're also updating eight of our legacy projects to the 125B platform. Less than five to go now!
---
Stratosphere – TS-808 Narrow Box
A replica of the very first Tube Screamer from 1979 which used two dual op-amps instead of one.
---
Flare – ZVEX Fuzz Factory
A glitchy silicon/germanium hybrid fuzz known for its dizzying array of controls and untamed sounds.
---
Cirrus – Ibanez ST-9 Super Tube Screamer PCB
An updated version of the Tube Screamer featuring a frequency-adjustable midrange boost that can be placed either before or after the drive stage.
---
Nimbus – OD-820 Overdrive Pro
A modern reimagining of the classic Tube Screamer circuit, featuring a dual drive/blend control adapted from the Klon Centaur.
---
Crescent – MI Audio Crunch Box
A Marshall-like distortion pedal noted for its high-gain "stack of amps" tone.
---
Parhelion – Boss OD-1 OverDrive
A precursor to the Tube Screamer, known for being the first overdrive effect to utilize diodes in a negative-feedback arrangement for clipping purposes.
---
Astra – Astrotone Fuzz
An early silicon fuzz from 1966 that was also sold as the Sam Ash Fuzzz Boxx. One of the first drive circuits to include a tone control.
---
Cumulus – Ibanez OD-855 Overdrive II
An early overdrive circuit inspired by the Distortion+, but with the first appearance of the tone control that would later be used for the Tube Screamer.
---
Quark – Maxon OD-880
An early overdrive circuit inspired by the MXR Distortion+, but incorporating a few changes that would later evolve into the Tube Screamer a few years later.