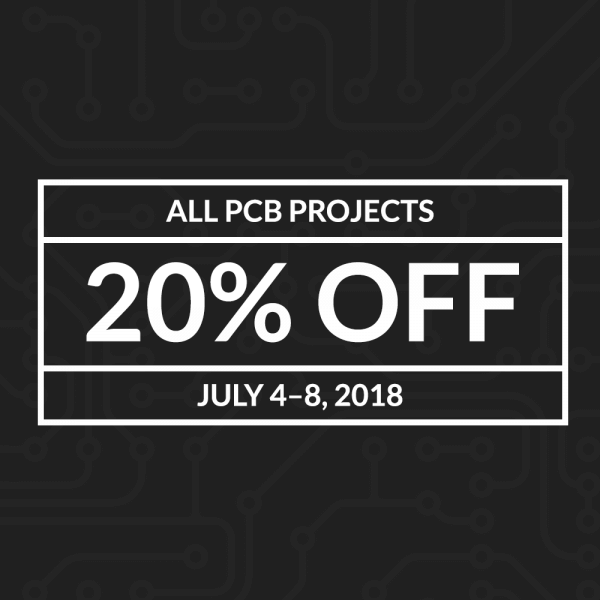 SALE: 20% off PCBs July 4-8… and some announcements
Today's a big day!
I've been pretty quiet so far this year, especially after promising to release 25 projects during 2018. I am still planning on hitting that goal – it's just going to be weighted toward the back half of the year. I've been heads-down working on some new stuff for Aion that I'm not quite ready to announce yet. But there's plenty that I can talk about today.
20% off sale through July 8
Everything's on sale right now! A 20% discount will be taken automatically at checkout. It starts today and will go through the weekend (5:00 AM on July 9).
Six new projects available today
See the full list of new projects in a separate post.
This is pretty exciting in itself, but even more exciting is that this represents a new generation of projects with a new design platform. All of my projects going forward will be designed for the 125B enclosure, with input, output and DC jacks mounted on the top side of the enclosure. They'll be easier to build with more space inside the enclosure, while at the same time being more space-efficient on a pedalboard. (A 125B with top jacks is narrower than a 1590B with side jacks, even though the enclosure itself is larger.)
Now, the one caveat to "6 new projects" is that five of them are re-releases of my most popular current projects. But I approached them as brand new projects, so many of them have new or different features that weren't found in the earlier 1590B versions.
More projects coming very soon
In addition to the six releasing today, several more projects are nearly ready to go. I just ran out of time to fully test them before the sale. Most or all of these should be released next month at the latest once I have time to build the prototypes and write the documentation. Right now it's looking like three more brand-new ones and three more 125B re-releases of existing projects.
And lastly, another teaser: this is only the beginning! This new generation of 125B projects is the first step in a new initiative that I'll say more about next month when it's ready to launch.
But for now… enjoy those top jacks!