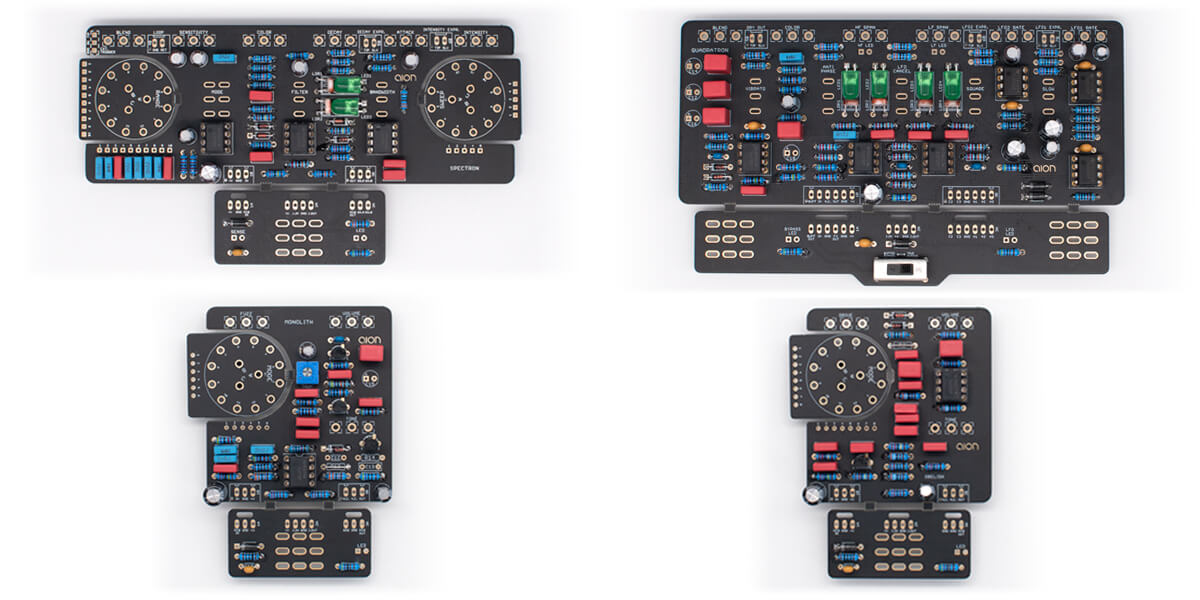 Four new Lovetone projects: Doppelganger, Meatball, Big Cheese and Brown Source
If you've been following Aion FX for awhile, by now you've probably gotten the sense that it's about much more than just PCB layouts and innovative kits.
Over the past few years, I've begun to focus in on something that I think will define Aion for years to come: the preservation of analog audio circuits. This encompasses tracing work—introducing new circuits into the DIY lexicon, like the three Dinosaural pedals we've traced. But it also includes researching vintage circuits that are already known, verifying existing schematics, and generally gathering as much information as I can so that no detail is forgotten.
So when Aion FX releases a new project or a tracing journal, it's not just a product in the commercial sense—it's a definitive record for the community that anyone can learn from. And when you buy a PCB or a kit, you're supporting these larger efforts as part of a patronage that allows me to keep doing this analog research and preservation.
Today, this research bears some really exciting fruit.
---
These are pedals you may have heard of, but have likely never seen in person. They were only available direct from the builder for a short period in the mid-late 1990s. They were expensive, and they were only made in small quantities. They were unique and original designs. Big-name professional musicians caught on to them long before hobbyists, and they were seen on the pedalboards and studios of the stars. Today, most of them sell for USD$1,000 or more on the secondhand market.
So far, this sounds exactly like the Klon Centaur… but I'm of course talking about Lovetone, the UK-based designer and manufacturer of eight brilliantly unique noise machines from 1995 to 2001.
The pedigree is impressive: notable users of Lovetone pedals include Radiohead (all three guitarists used them, and their sounds are all over OK Computer and Kid A), The Edge, Johnny Marr, Jimmy Page, J Mascis, Kirk Hammett and many others. You've heard them on many classic recordings even if you didn't know it.
But unlike the Centaur, Lovetone's circuits have not become cloned to the point of ubiquity—in fact very few commercial clones exist and only a small number of decent DIY implementations. The circuits remain under-studied and difficult to build, and many of the schematics have errors.
So… they needed to get done right. I had some help from Ian Pittam (LaceSensor on the forums), the DIY community's Lovetone expert, who provided some early sounding-board advice before I started the designs—and then this, once they were done: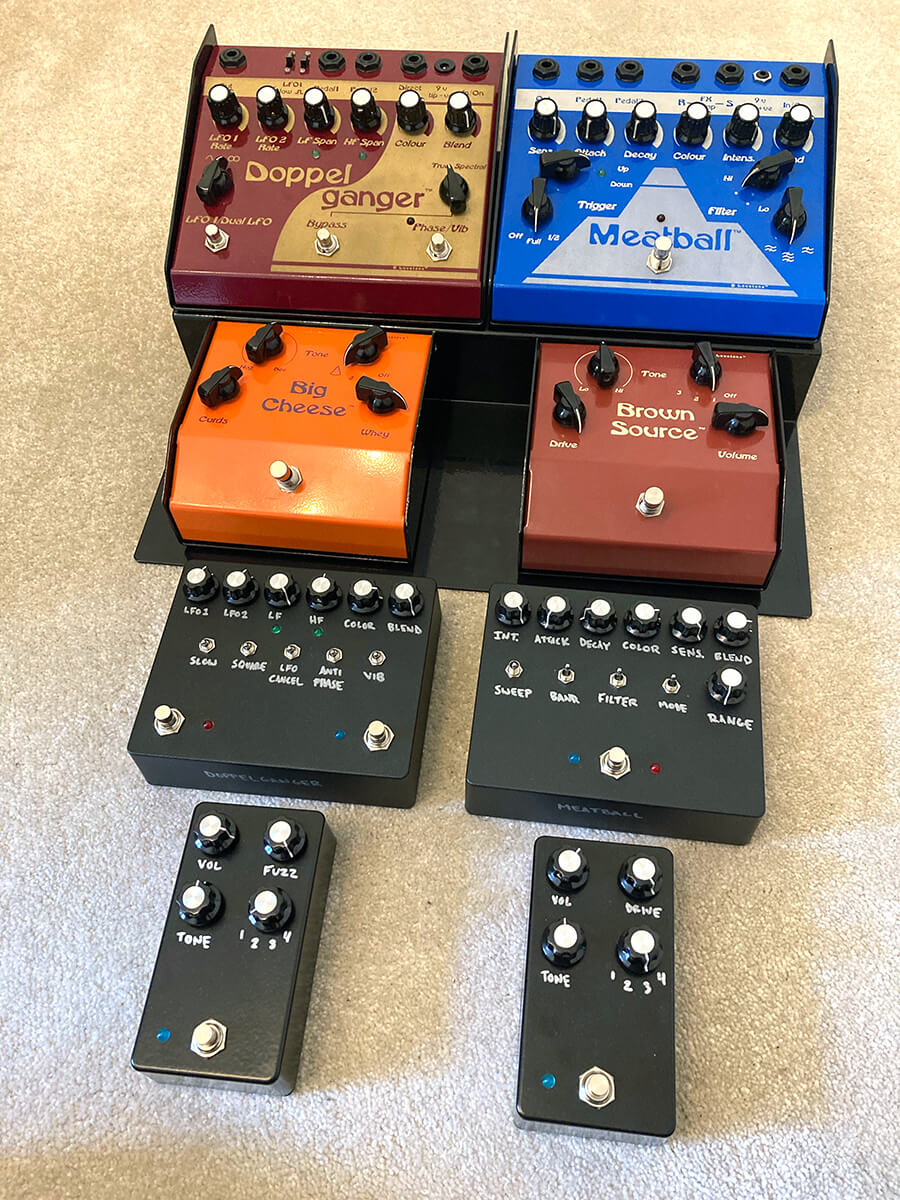 Ian owns originals of Lovetone's whole line of pedals and was gracious enough to test these prototypes against them for accuracy, and we tweaked them until every last kink was worked out. So even though I've never been in the same room as a genuine Lovetone pedal, much less played one myself, I can confidently say that these four are 100% accurate to the real thing.
Here they are!
---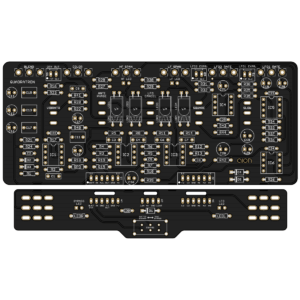 Quadratron – Lovetone Doppelganger
Easily the most unique phaser I've ever played, and if you check out the schematic, I think you'll agree: the engineering is a work of art. We tweaked a few things about the "user interface" to make it more straightforward to use—there's an extensive description in the build document if you want to know what and why—but the tone and features are unchanged.
---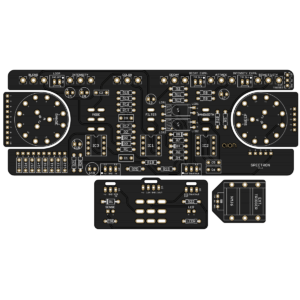 Spectron – Lovetone Meatball
A full-featured descendent of the Mu-tron III envelope filter, featuring six knobs, two rotary switches, three toggle switches, two expression controls, and an effects loop. We also added an optional external trigger jack that fully isolates the envelope detector from the original circuit so that the blend control can still be used (a limitation of the original unit). Again, the build document has extensive notes on this tweak, so check it out if you're curious.
---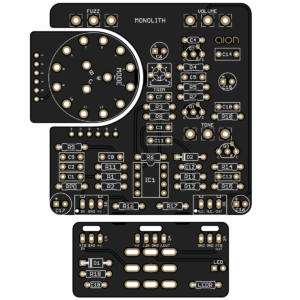 Monolith – Lovetone Big Cheese
A versatile fuzz/distortion pedal that has become Lovetone's most popular and widely-distributed effect, loved for its vintage-flavored and harmonically-rich "wall of fuzz" tone as well as its crazy oscillation in "Cheese" mode (which can be heard starting at 2:23 in U2's "Discotheque" if you're curious). Other than adding an optional output boost section as seen in a few other DIY implementations, this one is a straight clone of the original, albeit in an enclosure that's 1/3 the size.
---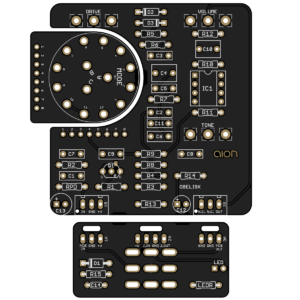 Obelisk – Lovetone Brown Source
A vintage-flavored overdrive designed to emulate the "brown sound" of the 60s and 70s. This one's a little bit more straightforward than other Lovetone offerings, but it's been seen in the rigs of James Hetfield and Kirk Hammett from Metallica as well as Johnny Marr. Like the Big Cheese, it incorporates a four-position rotary switch to give different responses across the sweep of the tone control.
---
There's an adage in the DIY community that you should never build a pedal with the main goal of saving money—because between troubleshooting, failures and subsequent addiction, you're going to end up in the red. But I think we can safely say that these four are an exception, since the originals would run you about USD$5,000 for the set if you could even find them.
What do you think—should we do the other three? It'll likely be a little while since these took a long time to develop and the prototyping backlog has been piling up in the mean time. But as always, our priority list is continually being rearranged based on feedback… so if you like them, let me know, and then tell others!