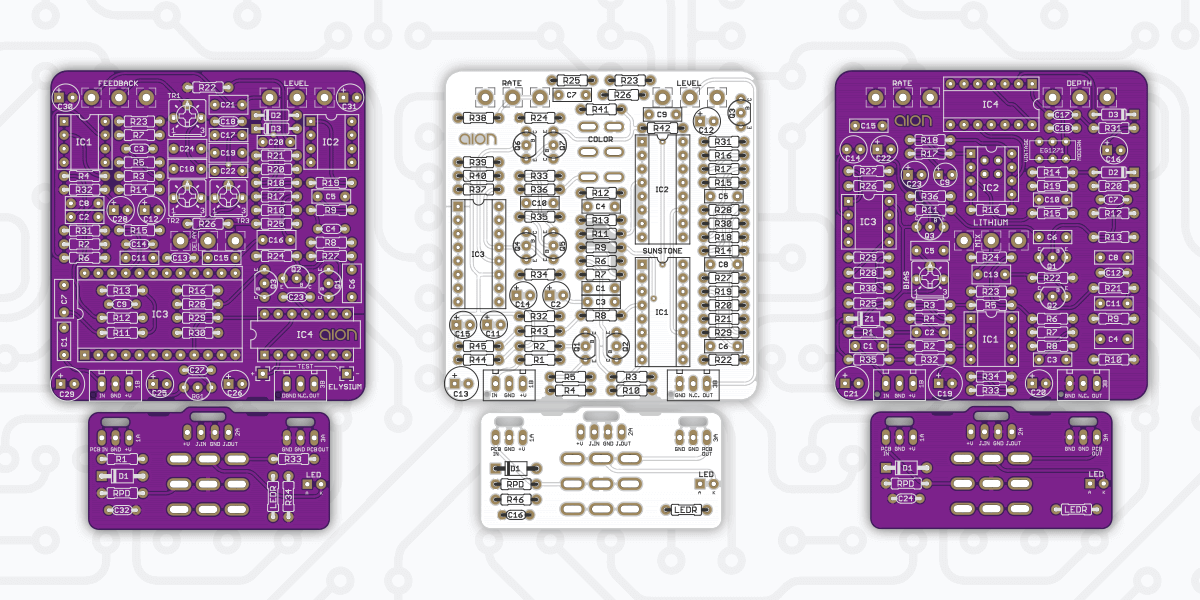 Three new modulation projects releasing today
Today is the 31st anniversary of the release of Nirvana's Nevermind. In conjunction with this weekend's sale, we're releasing three new modulation projects, and by pure coincidence one of them is based on the EHX Small Clone chorus that is most associated with Kurt Cobain, featuring in half of the songs on the album.
But we're actually even more excited about the Elysium, a delay pedal based on the coveted Ibanez EM5 Echomachine that has gained a reputation the last few years—not to mention a price tag, routinely selling for over $300 on Reverb. We've been historically lacking in delay pedals, but this one will help shore up our offerings a bit. It's one of the tightest layouts we've ever done and we're thrilled with how it turned out!
---
Elysium – Ibanez EM5 Echomachine
An analog-voiced digital delay that emulates vintage tape echo units, with heavy filtering and a soft-clipping overdrive on the repeats.
---
Lithium – EHX Small Clone
An early BBD-based analog chorus most notably used by Kurt Cobain for much of Nevermind.
---
Sunstone – EHX Small Stone
A classic phaser from the late 1970s, notably used by Jonny Greenwood, David Gilmour and Carlos Alomar (guitarist for David Bowie and Iggy Pop).