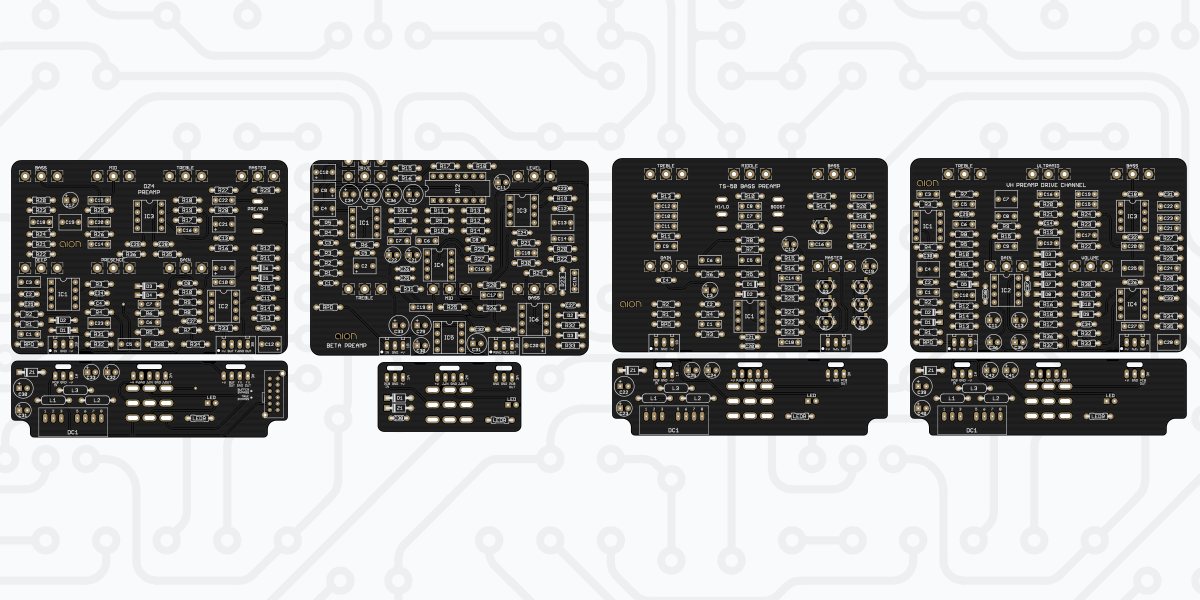 Four new preamps releasing today
Four exciting new projects are releasing today, a set of single-channel preamps in a new 1590BBS platform!
The L5 Preamp and IVP Preamp have long been two of our most popular projects, and each of these new releases is in the same spirit. They're exact recreations of classic solid-state preamps, in full or in part, but more compact and significantly easier to build than the L5 or IVP.
---
VH Drive Channel
The Ampeg® VH-140C was a favorite of metal and hardcore bands throughout the 1990s. This is an exact recreation of the drive channel of the amp, so you can have all the throwback tones on-hand without lugging around the whole rig.
---
Beta Preamp – Sunn Beta Lead/Bass
A single-channel adaptation of the Sunn® Beta Lead & Bass amplifiers from 1979, which use overdriven CMOS stages to generate their distortion tones.
---
DZ4 Preamp – Diezel VH4
A clone of the Diezel VH4 pedal, an original design intended to recreate the sounds of their classic VH4 amplifier in solid-state pedal format.
---
TS50 Bass Preamp – Traynor TS-50B
A pedal recreation of the preamp section of the Traynor TS-50B bass amp, first released in 1979 and prized for its unique drive tone.