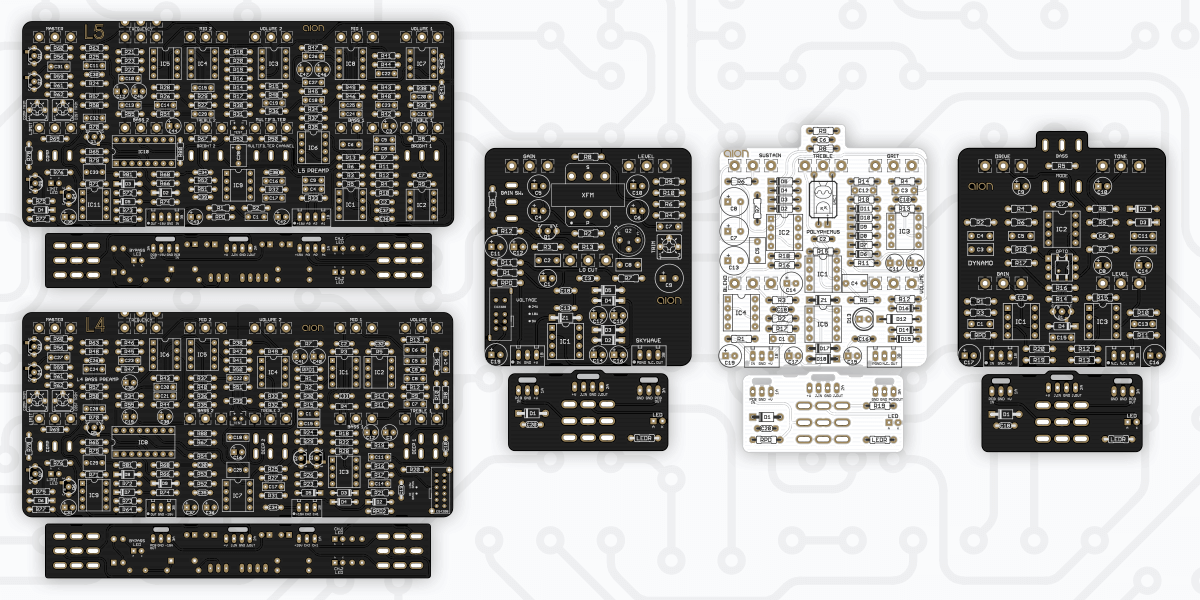 Five new projects: L5 Preamp, L4 Bass Preamp, Expandora, Philosopher's Tone and Broadcast
Five exciting new projects are available today! We're releasing a brand-new version of the Lab Series® L5 Preamp, as well as a bass version based on the Lab Series L4. The L5 is a full redesign of our original 2016 project. Not only is it a much cleaner layout with simplified wiring, but it also runs off a standard 9VDC adapter like our L5 Drive Channel and Clean Channel projects. These projects also have their own interactive BOMs that we started doing last month for more complex builds.
We've also got three more standard-sized projects based on the Expandora, Hudson Broadcast, and Pigtronix Philosopher's Tone—all three very unique circuits and worth checking out if you've never had a chance to play them.
It would also be a great opportunity to pick up our two new Lovetone projects, the Xenotron (Flange With No Name) or Neurotron (Ring Stinger), if you missed them when they released last month.
---
L5 Preamp
An updated version of one of our most popular projects, adapting the Lab Series® L5 guitar amp from the 1970s into a pedal format with all the features of the original.
---
L4 Bass Preamp
A bass variant of the L5, featuring two footswitchable channels, a unique overdrive circuit, and a compressor.
---
Dynamo – Bixonic Expandora
Loosely based on the RAT, but with an optocoupler that dynamically sets the gain based on the input signal level, making for a highly unique and often untamed drive effect.
---
Polyphemus – Pigtronix Philosopher's Tone
An inventive optical compressor noted for its long sustain and blendable overdrive, designed by Howard Davis, best known as the designer of the EHX Memory Man and Electric Mistress.
---
Skywave – Hudson Broadcast
A hybrid silicon/germanium boost & drive pedal with a transformer-coupled output, with tones spanning the decades from vintage to modern.
---
Xenotron – ? Flange With No Name
A flanger, chorus, tremolo and everything in between, with synth-like controls, regeneration and self-oscillation for unique and otherworldly sounds.
---
Neurotron – Lovetone Ring Stinger
A highly original ring modulator and octave fuzz with LFO modulation for a stunning array of tones and sound effects.