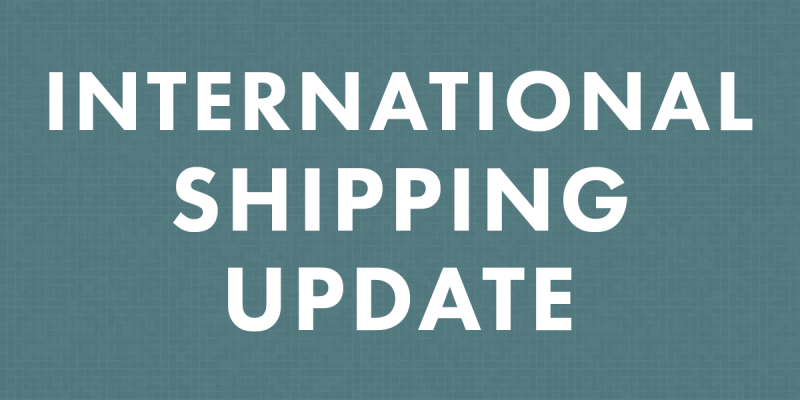 International shipping updates, June 2020
Due to COVID-19 and the disarray of mail carriers throughout the world right now, I've had to make a few changes to the international shipping options. While some other PCB sellers have suspended all international deliveries, I'm not going to shut it down just yet (although if it gets much worse that will likely be the next step).
International flat shipping method temporarily disabled
First, I have to temporarily suspend the International Flat shipping option. This type of mail is routed through a relay facility within the United States where they're able to send internationally at cheaper rates than I can directly. But they've been backed up and slow to process since COVID, and it's been causing significant delays as well as many outright losses. Since I can't vouch for the quality of this shipping method right now, I've turned it off for the time being. Hopefully once things get back to normal around the world I can begin using it again.
First Class shipping cost increase
I have also had to increase the cost of the regular first-class shipping method. This is unrelated to COVID—the USPS international rates actually went up this past January, as they do most years, but I kept mine at the lower rates for a few months. I am still taking a very slight hit on it since the costs don't factor any overhead like shipping materials, but I want to keep things as low as I can since the cheaper method is no longer available.
Shipping transit time
The last thing is not really a change, but just a request for patience in international delivery time. Even the standard First Class shipping method is often taking much longer than the 10-20 days I used to quote, especially to certain parts of the world. Canada has typically been pretty reasonable, and Europe's not bad, but almost anywhere else (South America, Asia and the Middle East) has been pretty rough.
So far I would say about 20% of the international orders from March onward have been lost. My usual policy is to re-send orders at no cost if they are lost in the mail, and it happens rarely enough that I just consider it the cost of earning a good reputation with customers. But it's starting to get expensive and so I will have to handle it on a case-by-case basis going forward. Depending on the rate of package loss in the destination country, I'll either re-send the order or refund the purchase price.
Along with this, the window of time for a package to be considered lost is now 60 days after it was shipped. It used to be 30 to 45, but again the change in the quality of mail service has necessitated a change in the expected delivery period. Many packages do still arrive after 30 days, but the customs process is slow right now.
Thank you for understanding, and let's hope this pandemic is all a distant memory before long!