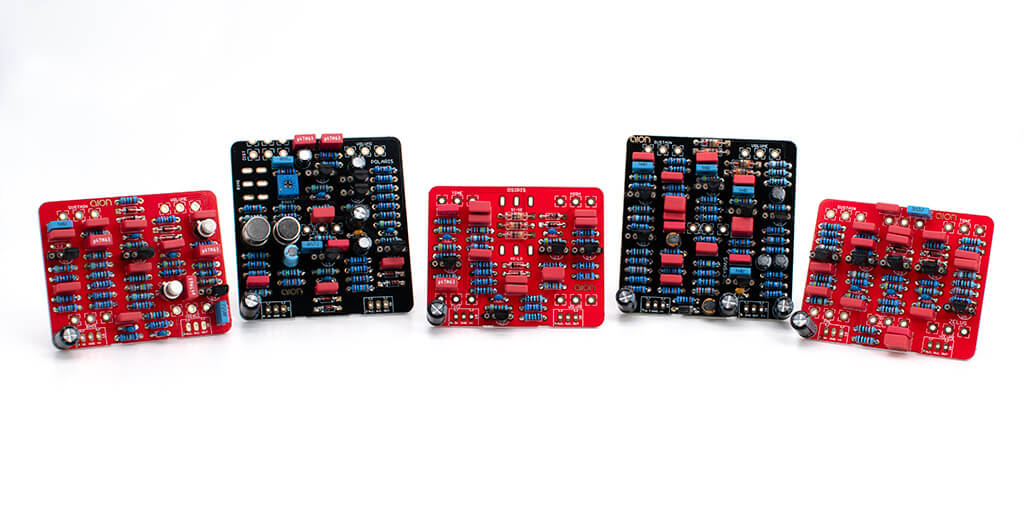 3/14 Pi Day Sale: 20% off all PCBs, 10% off kits through Sunday plus 6 new releases

It's Pi Day, so what better way to celebrate than to launch five new Big Muff Pi-based circuits and have a sale on top of that?
From today (3/14, 1:59 AM GMT) through Sunday at midnight, take 20% off all PCBs and the Halo kit, and 10% off all other kits.
---
Cygnus / Cornish G-2
An extremely expensive Big Muff clone with a meticulously-tuned buffered bypass along with an additional transistor-based buffer stage on the effect input.
---
Polaris – Human Gear Animato
Another pricey Big Muff clone, this pedal adds a Rangemaster-based treble booster to the frontend as well as some other tweaks. Most famously used by Chris Wolstenholme of Muse.
---
Zelus – Blackout Musket Fuzz
This hot-rodded Big Muff adds a boost to drive the input, a bass blend capacitor, and a midrange control inside the tone stack.
---
Osiris – Black Arts Pharaoh Fuzz
Another hot-rodded Big Muff, this time with a high/low impedance switch, a diode selector switch to go between silicon and germanium, and a high-frequency control inside the tone stack.
---
Nexus – Catalinbread Manx Loaghtan
Based on the Ram's Head, this pedal swaps out the original tone control with a 2-band Baxandall EQ, allowing control of both bass and treble frequencies independently instead of just one or the other.
---
Luna – 4ms Tremulus Lune
This isn't a Big Muff, but it didn't make the last batch of releases due to a layout error. Updated for the new 125B format, this all-analog tremolo features six knobs for fine control over every aspect of the waveform.