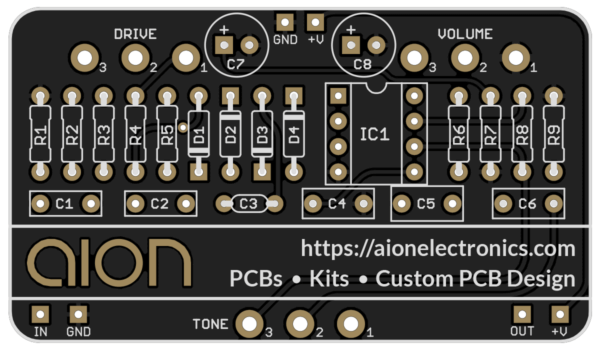 The Aion FX Business Card Drive is a fully-functional overdrive effect disguised as a business card. It's designed to fit the same enclosure style as the new 125B projects, although since it doesn't come with its own bypass PCB, the footswitch and LED must be wired the old-fashioned way.
A full-sized project based on the Lovepedal Eternity is also available as the Hadron.
The build PDF for the Business Card Drive contains a parts list, schematic, and wiring diagram. It also has notes on modifications if you'd like to try a different variation besides the default.
While you're here…
Aion FX offers full kits for beginners & experienced builders alike, and standalone PCBs for intermediate & advanced builders.
I also do custom PCB design. If you've got a schematic, I can work with you on the engineering side to bring your idea to life.
Contact